TUROK 2 links
-------------------------------------------
+4
Assdigger
RoyalTS
Birdskiller
azface
8 posters
I would like to personally thank Jeff, Vis and Jager for hosting servers. Since Ry has been going through issues there were days when no servers were available. But these guys stepped up and put servers up. I would have but really haven't studied enough to host myself. But as a result, I have been able to meet different folks and make new friends. I think the Turok community has become closer during this time. Perhaps some old wounds will be healed and old beefs (sorry its an American saying) will be mended. Either way it's always nice to meet new players as well as the old ones. In this crazy world in which we live, its nice to be able to escape for a bit in Turok and have fun with the guys.

Fork,

Azza

azface




Number of posts

: 140


Registration date :

2013-05-12



well i also hope we will get over the past as you mentionned az, in some cases it lasts for almost 4 years lol, and "having fun" like you said, which is, or should be, the only motive there

Birdskiller




Number of posts

: 1278


Localisation

: France


Registration date :

2009-05-14



Did anybody try to run a turok server in Linux? There's a possibility to host permanent servers on a vserver, which then should run 24/7. Like the ones at edis.at ; Linux VRS virtual server for just 4€/Month, and multiple servers for many games can be ran there. But i am not sure though which OS to pick there, because i don't use linux much at all, nor have i ran a Turok server there.

Also i am wondering wether it is possible to attach global banlists to external servers. Has anybody experience with extern game servers and port configurations there? From my point of view this should work, since it's possible to change the ServerPort of a dedicated server from 12800 to any port that suits.
I could imagine running the rtime server on a vserver but the gamemangers on local desktop pcs to simply switch from one gametype to another without having to restart anything on that external server.

At least these suggestions should fix the common error that players need to enable DMZ in their router to be able to host.

>>>> My final question is now: Does anybody have a VSERVER / knows somebody who does, who already hosts for other games? If so, could you ask him if he might try to run a turok server there aswell?

RoyalTS




Number of posts

: 24


Registration date :

2013-08-14



guess Hosting with an own System is already enough my friend. noone would spend extra Money for it every month

Assdigger




Number of posts

: 78


Age

: 31


Registration date :

2010-06-01



why does fking hector still plays around? vis why not ban him on his servers???

uBernoob




Number of posts

: 15


Registration date :

2013-01-30



azface wrote:I would like to personally thank Jeff, Vis and Jager for hosting servers. Since Ry has been going through issues there were days when no servers were available. But these guys stepped up and put servers up. I would have but really haven't studied enough to host myself. But as a result, I have been able to meet different folks and make new friends. I think the Turok community has become closer during this time. Perhaps some old wounds will be healed and old beefs (sorry its an American saying) will be mended. Either way it's always nice to meet new players as well as the old ones. In this crazy world in which we live, its nice to be able to escape for a bit in Turok and have fun with the guys.

Fork,

Azza
hI Azface, en mi web tienes como montar un servidor online: 
http://turok2ayuda.blogspot.com/
Dejo capturas.
Si no sabes español usa translator google.
Saludos bro.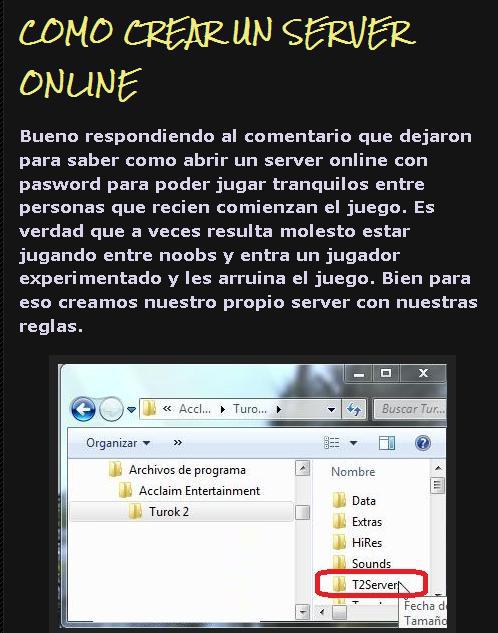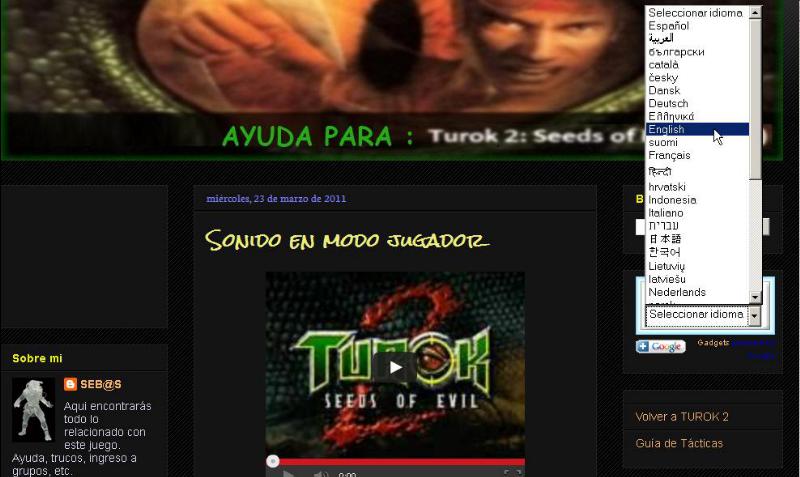 Glad to hear some servers are still being hosted. Reminds me I should play again sometimes.

Chief(NL)




Number of posts

: 131


Registration date :

2012-10-06



Yes Chief you should play again sometime! We need all the players we can get.

azface




Number of posts

: 140


Registration date :

2013-05-12



This is just to give an extra SPECIAL THANKS to Jager for continuing to host servers for the players. Knowing that he doesn't have to do this for the players but chooses to out of a desire to have a server that is nicely set up for us to play in. It inspires me to want to learn how to host myself (although I'm only moderate in my computer saviness). Jags servers are always clear of cheaters and he honestly wants to be informed if any show up. I know trying to accomplish this must be a pain in the rear to do, yet he does it anyway. So for all you Turokites out there let's raise a pint to Mr.Jag for his contribution to our continuing fellowship around the globe! Here Here!


Azza

azface




Number of posts

: 140


Registration date :

2013-05-12



Azza you could get the Turok server files from
http://turok2.de
aswell with gui configuration for dedicated server then you don't have to worry about what to set up in these config files - I'm wondering anyway why the link has been deleted from this website.

RoyalTS




Number of posts

: 24


Registration date :

2013-08-14



---
Permissions in this forum:
You
cannot
reply to topics in this forum